(704) 541-0508
Thank You for Choosing Five Star Limo for All of Your Limo Charlotte Transportation Needs
Click Here to Request a Quote

Prom night in Charlotte, NC is one of the most memorable special occasions of a young person's life. It is a celebration of youth, but also marks a coming of age into adulthood. Make your prom night extra special with a luxurious ride to and from the event in one of our Prom Limo Charlotte. A memorable evening such as this is the perfect time to pamper yourself with a fully-equipped limo with room for two or even a group of friends. Don't wait until the last minute to book your prom transportation, or you might just get stuck carpooling with your parents!  When your son or daughter pulls up to the dance in a Five Star Limo Charlotte, they'll feel like this special night is their special night. They'll have a great time to and from the best night of their high school career, and you can rest assured that they're riding in the safe hands of our professional Limo Charlotte chauffeurs.  Book your Prom Limo Charlotte transportation packages today!  Call us at (704) 541-0508
Five Star Limousine is Charlotte's number 1 limo service – committed to providing our clients with world-class limousine service in Charlotte NC, Gastonia NC, Indian Trail NC, Harrisburg NC, Waxhaw NC, and Weddington NC. Anyone can drive you from one destination to another. We do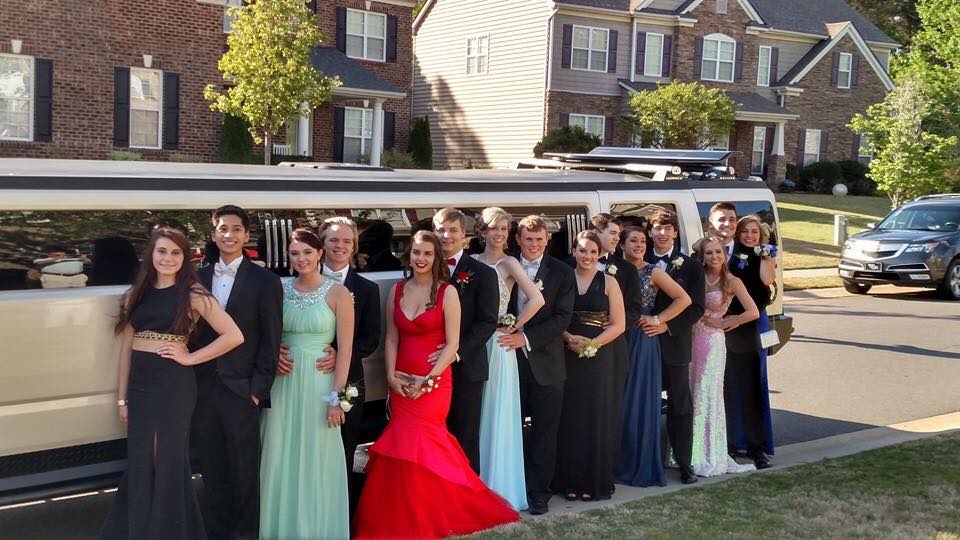 so in an expedient, reliable, courteous, and safe manner time after time whether it is the first run of the day or the last. Proudly services Charlotte and surrounding areas – Limousine services are available for proms, wedding transportation, bachelor parties, bachelorette parties, NC winery tours, graduations, anniversary, birthdays, concerts, sporting events, corporate transportation for business meetings and events, airport transportation, night out, theaters, dinners, client appreciation, employee incentives & appreciation, and tours of Charlotte.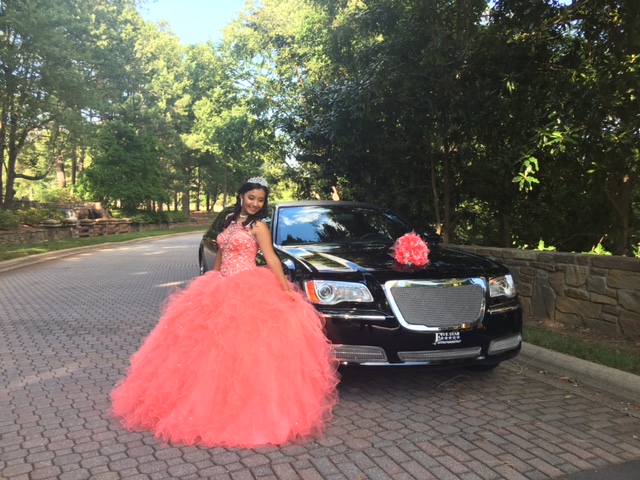 Charlotte limo service provides stretch H2 Hummer Limo Charlotte, Chrysler 300 Limo Charlotte, Lincoln Limo Charlotte, and Mercedes Sprinter Limo Charlotte with professional, experienced chauffeurs to meet your limo rental needs 7 days a week. We specialize in custom experiences for business or pleasure. Whether you need to impress your business client or you need a luxury limousine for a special occasion, let Five Star Limo Charlotte help you make your next event perfect.  Five Star Limo Charlotte, NC focus our efforts to excel in limousine service as well as customer service, quality of product, and safety. Five Star Limousine Service is fully licensed and insured in compliance with the North Carolina state and federal regulation. You can rely on Five Star Limo in Charlotte, NC for consistent quality limousine service.. We also specialize in Charlotte area executive limousine service for corporate and business travel. Our professional chauffeurs take personal pride in making sure everything is perfect with your corporate limo transportation.  Whether your business needs a limousine for a corporate retreat, corporate event, or group transportation to the Charlotte Convention Center, Five Star Limo Charlotteis available to make your transportation flawless. Specializing in Exceptional Limousine Service – Charlotte, NC and Surrounding Areas.
Bachelor and Bachelorette Party Limo Charlotte
Ballantyne Limo Service
Brewery Tours in Charlotte, NC
Charlotte Birthday Limo
Charlotte Concert Limo
Charlotte Sporting Events Limo
Concord Limo Service
Gastonia Limo Service
Indian Trail Limo Service
Limousine Services in Charlotte, NC
Luxury SUV Transportation in Charlotte, NC
Pineville Limo Service
Prom Limo Charlotte
NC Winery Tours Charlotte
Stretch Hummer Limo in Charlotte, NC
Wedding Limo Charlotte
Weddington Limo Service
Waxhaw Limo Service
Planning an exciting day of touring some local notable wineries and vineyards? Discover the NC Winery and Vineyards while traveling in style and luxury with Five Star Limo's Charlotte limo wine tours. Charlotte Limo Wine Tour Service – At Five Star Limo, wine tours are our specialty. Whether you're hosting a bachelorette party, celebrating a birthday, or are simply looking for a romantic getaway, we can provide you with an elegant vehicle to make your wine tasting adventure all the more memorable. Plus, we can help you design an itinerary that'll include some of the best wines North Carolina has to offer.  Treat yourself to a fun day of tasting and indulging. Whether you're a long-time wine aficionado or are new to the world of fine wines, we'll arrange an outing that will cater to your needs and preferences. Call now for more information about our quality limousine wine tours.
Getting married is one of the most important times of your life. From finding the perfect dress to orchestrating a great ceremony and reception, planning the event can be hectic. Before you even get that far, however, planning a memorable bachelor or bachelorette party limo Charlotte is a lot easier with a premium limousine service.  You only need to make one call to arrange all of your bachelor or bachelorette party limo in Charlotte, NC needs. Five Star Limo Charlotte, NC can take the hassle and stress out of planning your Bachelor or Bachelorette party. We will pick up you and your party members and safely drive you to all the "Hot-Spots" that Charlotte has to offer. Five Star Limo Charlotte can make that "last night out with the boys/girls", a night you'll always remember.  Call Five Star Limo for all of your Bachelor & Bachelorette Party Limo Charlotte needs.
Charlotte is home of some great breweries.  Book your brewery tour with Five Star Limo Charlotte today and experience the craft beer scene in Charlotte, NC!  We can accommodate any size group for your brewery
tour.  Five Star Limo Charlotte offers customized tours for your party.  Whether you know exactly which breweries you want to visit or need some guidance – Five Star Limo Charlotte is your choice transportation provider for Brewery Tours in Charlotte, NC.
If you're treating the special someone in your life to a Charlotte birthday to remember, Five Star Limo Charlotte is perfect for the occasion! Our stunning vehicles are the vehicles of choice for the celebrities and pro athletes, and now you too can feel like a celebrity for the day! Our Birthday Limo Charlotte is classy and sophisticated, and perfect whether it is to a restaurant in SouthPark or a nightclub in Uptown. Our uniformed Birthday Limo Charlotte driver will look after all your needs to make sure you have a journey you will never forget!  Celebrate a birthday in style with Charlotte Limo. Our professional Birthday Limo Charlotte service will mean you will be completely relaxed knowing everything has been planned to ensure you have a truly special and memorable birthday.
Have you got tickets to the Carolina Panthers game, Charlotte Hornets game, Charlotte Checkers game, Charlotte Hounds game? Why wait until the event begins to start your fun! You can start as early as you please. No need to worry about the traffic or finding a place to park. Book Your Charlotte Sporting Events Limo with Five Star Limo in Charlotte, NC today.  Five Star Limousine Service in Charlotte, NC will deliver you in style right to the door so sit back and relax – we'll do the driving! Five Star Limo Charlotte Service staff can help coordinate your event…from dinner to event tickets!
Have you got tickets to PNC Music Pavilion,Time Warner Cable Arena, Uptown Amphitheatre at NC Music Factory,Blumenthal?  Why wait until the event begins to start your fun! You can start as early as you please. No need to worry about the traffic or finding a place to park. Book your Charlotte Concert Limo with Five Star Limo in Charlotte NC today!  Five Star Limo Charlotte, NC will deliver you in style right to the door so sit back and relax – we'll do the driving! Five Star Limo Service's staff can help coordinate your event…from dinner to event tickets! Why not arrive at your next Charlotte concert in style, hire a luxurious Five Star Limousine Concert limo and attend the concert in a limo for you and your group. You will be able to relax and enjoy each others company as you are driven to the event; arriving on time, so that you don't miss any of the performance. Our Concert Charlotte limo chauffeurs will drop you off at the venue, when the concert is finished and you're ready to go home, simply call the chauffeur to pick you up, they are normally only 5 minutes away.  Charlotte Theatre Limousines offers a wide variety of services and we know all the entertainment venues to take you to. Great live venues for Charlotte concerts we will take you to places from arenas as PNC Music Pavilion, Time Warner Cable Arena, Charlotte Metro Credit Union Amphitheatre at NC Music Factory, Blumenthal to small venues like Fillmore and Amos for live local bands inside and outside of Charlotte, NC. Our mission is luxury Charlotte Concert transportation for your group no matter how small or large so you can have a great time at your concert event and leave the driving to us (You Drink, We Drive). Call us or fill out your information in our online reservation section to book a concert limousine with us!
Five Star Limo Services in Charlotte, NC has a fleet of limos of all styles to suit any type of event you're planning. From our white stretch limos to our sleek Chrysler 300 limo, we'll get you where you need to go in style. Booking a Charlotte limo doesn't always have to be for a grand occasion. Whether you're searching for a party limo, an executive limo, or a just-because limousine, the fleet at Five Star Limousine is great for every occasion.
Enjoy the comfort of a chauffeured sedan or the roominess of a Cadillac Escalade ESV with Five Star Limo. Our professionally trained chauffeurs will assure that your luxury ride through Charlotte goes without a hitch while you're riding in our roomiest standard-size vehicle.While you can certainly use our Five Star luxury SUV for special occasions such as weddings or proms, we also provide transportation services for:
Corporate Transportation

A Special Dinner Out

Transportation to and from Concerts and Sporting Events

Luxury SUV Vehicle Features
Our fully-loaded black Cadillac Escalade has flawless exterior and interior design, as well as sleek 22″ chrome rims. Complete with 2 TVs and DVD players, a state of the art Bose sound system, a CD player, and even heated leather seats, our luxury Cadillac Escalade has all the amenities to give you the lift of a lifetime. The Escalade has ample storage and seating for up to 6 members of your family, office, or group of friends..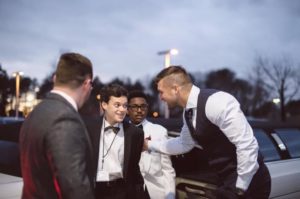 Five Star Limousine in Charlotte, NC can handle all the transportation as part of your special birthday celebration or night on the town limo service. Make parking and traffic one less thing you have to worry about – a private limousine is the perfect way to start your Charlotte Night out. Our Charlotte Party Limousine can make your next Charlotte Night Club event that much more special. Our Night on the Town Limo Service can pick you up anywhere in the Charlotte, in a stretch limousine or luxury SUV.  Your Charlotte Limo Night on the town can take you to the restaurant of your choice. From there on, your options are limited only by your imagination, as your private  limousine takes you wherever you want to go. Our nightclub limousine service is wonderful for parties; just imagine pulling up to the club in a Luxury limo Charlotte and having the driver open the door for a truly VIP experience.
All of our Hummer limousines are gorgeous inside and out, and feature flat screen TVs, surround sound systems, and DVD and iPod/iPhone hookup. With Hummer limos of various sizes to choose from, we can accommodate any size group for your outing. All of our Hummer limos feature fiber optic lighting displays with neon lighted bar areas.
It's the day you've been dreaming of your whole life – you want it to be perfect, and timing is everything. Arrive in style, and on time, to your wedding in a sparkling Wedding Limo Charlotte driven by one of our courteous, professional chauffeurs. Whether you need just one limo for the bride and groom or a fleet for the entire wedding party, we can accommodate your needs. We also can provide Town Cars for your special guests, and a stretch Hummer Limo service between the reception and the hotel. When it comes to your Charlotte wedding, you want every detail to be perfect. With Charlotte Limo Service provider, you'll get to the chapel on time, in style, and with the confidence to enjoy all of the other important details of the day. We will be honored to be a part of this most important day.
The 24/7/365 Advantage
Whether you need a limo service next week, in a month or in the next hour, we are here to service all your needs. Take advantage of our extensive knowledge of Charlotte and surrounding areas, with a friendly customer representative always standing by to assist you. Advantages that make Five Star Limousine in Charlotte, NC the clear choice.
Courteous and Professional drivers with extensive knowledge of Charlotte and surrounding areas

Available 24 hours a day, 7 days a week, 365 days a year for your convenience.

Diverse fleet with some of the finest luxury vehicles suitable for any event.

Competitive rates and exceptional customer experience.

Ability to custom tailor any itinerary to meet the specific needs of any occasion.

VIP treatment for you and all your guests!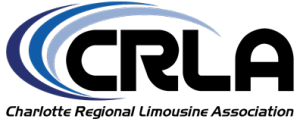 Call Five Star Limo in Charlotte, NC for all of your Charlotte Stretch Limo Transportation – (704) 541-0508